30/08/2011 - A Call Out to The Very Successful 240km Ride To Conquer Cancer
Leading Australian phone message company, Media Messages, is proud to announce that the Ride To Conquer Cancer was one of Queensland's most successful fundraising events ever, with a total of $4.5 million raised for the worthy cause.
The staff from the Gold Coast audio production company backed the cause, sponsoring Team Sunshine - a team of two dedicated riders, Natalie Masters and Tanelle Barrett who rode for 240km all in a bid to raise funds for cancer.
The audio phone message group's national operations manager said he was extremely proud of Team Sunshine, and he intends to support them in their bid next year also.
"We are extremely proud of our friends and their massive efforts. We have watched them train vigorously throughout the year, and we watched them complete this massive ride with a great sense of pride!
"Media Messages supports a number of charities, but when Tanelle and Natalie approached us, we knew we had to get involved, our team of copywriters and audio engineers unanimously agreed and we all opened our wallets to help in whatever way we could," said Mr Loftus.
The Ride to Conquer Cancer helps raise funds for Queensland's institute of Medial Research, and Team Sunshine's Tanelle Barrett said there was a lot of preparation put into the event.
"240km is quite an exhausting ride. We trained very hard, riding between 60 - 100km every weekend ... but it was for a very worthy cause and knowing what cancer patients go through really put things in perspective ... which made the ride a whole lot easier.
"It was a great challenge, so much so that we have signed up again for next year's event," said Miss Barrett.
The Ride to Conquer Cancer was held on the 20th - 21st of August 2011, and was open to anyone who had the motivation, a helmet and a bike.
Joshua Loftus said his phone message company would be calling out to all of their clients to help contribute to next year's Ride to Conquer Cancer.
To find out more about how you can become part of the team or how to make a donation, visit http://br11.conquercancer.org.au.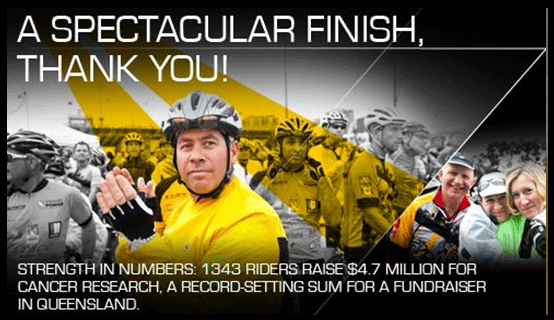 Media Messages
2, 2 Spencer Road
Nerang, QLD 4211